Students and researchers face problems when they need to work on mapping research ideas for the research. Although it's not difficult but students read multiple subjects, and that's why it's difficult to select a single one for research purposes. Even after the successful selection of the research problem, they cannot identify which topic or problem statement they should work on. Are you one of those confused students that need help in selecting the problem statement? If yes! Still, there's no problem because almost every researcher stays confused in early stages of selecting a problem statement. This article will help you to map your research problem and select the one that matters to you.
Additionally, after successful selection of the research problem, researchers feel difficulty in organizing data, adding relevant information to the dissertation and many others. Mapping research ideas is the most effective way by which you can easily select your research problem. It will also help you in conducting research and taking useful decisions.
What Is The Mapping Method For Mapping Research Ideas?
The mapping method is a method of representing information in a graphical way that helps to represent ideas, information and concepts. The mapping method helps the researchers to explore new ideas by connecting dots. Using mapping methods, researchers can explore new ideas effectively.
Types Of Mapping Research Ideas:
Mapping research ideas can be done by using two mapping methods. Both are effective and help to map research ideas effectively.
Mind mapping
Concept mapping
Concept Mapping:
Concepts maps are basically the visual method of information representation. It can be in any form like flow charts, tables, vein diagrams or t-charts. Concept maps give a broad vision of the research and help the researchers to see the big picture. Concept maps help in defining the relationship between the information. There are many students who feel problems when working on concept mapping and therefore, they prefer to hire coursework writing services.
Where To Use Concept Maps:
Concept maps are helpful when you need to represent more than one research idea. Moreover, it is also a great way to check the relationship between the different research ideas. Concept maps also help to organize information and compare them on a specific basis.
How To Draw A Concept Map:
Drawing a concept map is not a difficult task. You just need to think about where to start. For example, for selecting a research problem, you need to start from the subject in which you want to select the research problem. Let's start designing a concept map. Suppose I want to select a research idea in artificial intelligence to pursue my Ms Degree. First of all, I will write "artificial intelligence" on blank paper. Then I will specify all the research problems I have in my mind one by one, as described in the diagram below.
See, I have first mentioned my subject in which I want to pursue research problem. Then I have to write all the problem statements I want to work on. After that, I have mentioned pros and cons of all research ideas. Now I can select one problem statement easily. Similarly, designing a concept map can also help you to select suitable research ideas. You can also mention what resources and budget you will need to conduct the research. Moreover, you can mention every information on which basis you want to select the research problem.
Mind Mapping:
A mind map is a graphical way of representing ideas and concepts. In the mind map, the main idea is explored by moving in the depth of the idea. While designing a mind map, you can use colours and images. Using colours and images will help in remembering the mind map for the long term,
Where To Use The Mind Map:
Mind map can be used to take effective notes, make decisions and solve problem. Moreover, you can use mind maps for structuring any kind of information.
Using Mind Map:
You must be thinking about how a mind map helps you to make decision and in problem solving. Let's see how we can use the mind map to solve a problem. First of all, take a paper or use any designing tool like canva to design the mind map. Then write the problem in the middle of the paper. Write all the solutions you have in mind to solve that problem. Define why you have selected every solution to the problem and how it will help you in long run. Now you can select an effective solution to your problem.
Mapping Research Ideas Using Mind Maps:
Let's learn how we can design a mind map to explore a research problem. For doing so, use a clean paper, then write the research idea in the middle of the paper and draw a circle around it. After that, write all the information you need to explore about the research idea. See how this chart explores information about the research idea.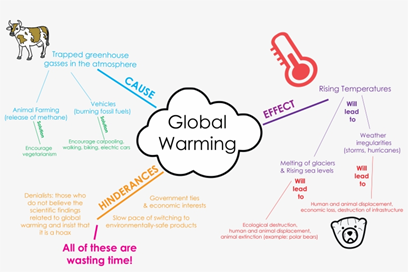 Summary:
Mapping research ideas is a difficult task because research ideas need to represent lots of information. There are many techniques for brainstorming research ideas. But mapping is the most useful and effective way of doing so. We have two methods for mapping research ideas. Mind mapping and concept mapping. By using these methods, we can also find solutions to our problems and design notes.