Tips to dress kids in Traditional wear this year
Kids look lovely when wearing traditional dresses that elevate their style on any occasion. Many ethnic attires are not even made of heavy material, but look expensively embellished. Such embellishments and materials might not be comfortable for children. Although most of the time children are dressed casually because of the comfort it offers, some occasions need traditional clothing. These days there is a variety available for children when it comes to ethnic wear.
As we all know that the fashion trend keeps changing every day, normally the trend of wearing ethnic is not much developed. So, we can say that kids' fashion is inspired by the trend of girls and boy's styles. Moreover, moms prefer lightweight and comfortable outfits for their children. Usually, kids are dressed up ethnically for some special occasions like weddings, parties, and celebrations to keep them upgraded around our Indian legacy and the charm of Indian weddings. In this article, we'll discuss some tips to dress kids in traditional wear this year.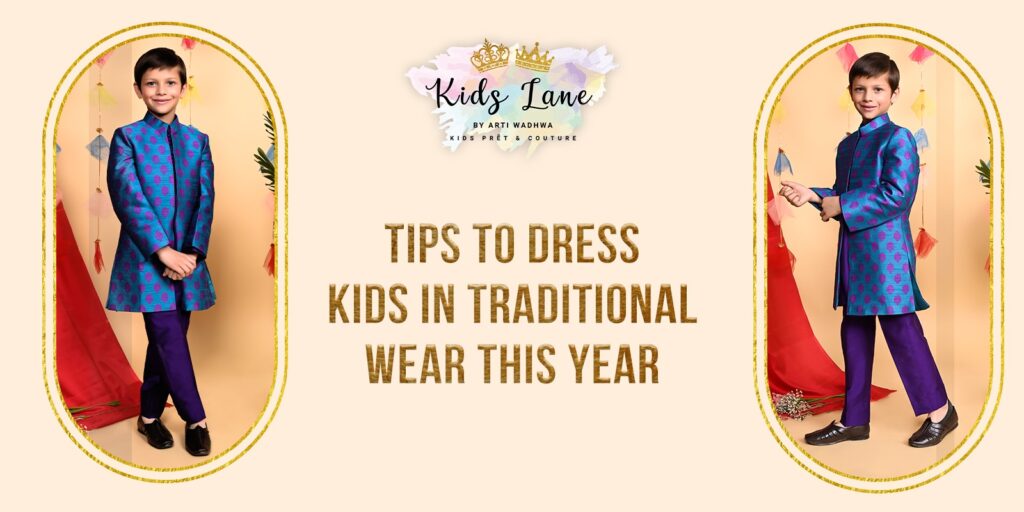 Style your little one in a kurta –
Even in kurtas, your little one will look stylish. Kids need not overdress in terms of traditional clothing. A blend of traditional and contemporary is apt for kids. Moreover, traditional clothes for boys or girls should be trendy and fashionable. Some ways to dress your kid in a kurta are:
Kurta with denim
Kurta along with a jacket and pant
Kurta with dhoti pants
Dupatta with kurta
Kurta and skirt for young girls
Best color combinations for kid's kurtas
Combining the right color for a kurta can be quite confusing because these comfortable ethnic attires are available in almost all shades and tones. When it comes to opting for the right color combinations, there are a few things that need attention like the time of the event, the occasion, the weather, the material, etc. Check out the trendy color combinations for kids' kurta and pajama combos, like:
Yellow-shaded kurta pajama
Red and white
Navy blue and beige
Light pink and cream
Dress ethnically for different occasions –
Most of the time moms can also choose casual wear. Although, there are some occasions that need an ethnic touch. Though it is difficult to dress kids in traditional outfits, with easy-going kurtas this can be solved. Some occasions for which kurtas are the best option are:
Festivals are perfect to dress in Kurta.
Wedding ceremony or cocktail party.
An engagement ceremony is quite personal.
Different Types of kurtas –
Commonly, all kurtas are loose-fitted and knee-length, but these days there are many varieties of kurtas too. With different styles and cuts, kurtas are now available in numerous types. Although, it is best to select one according to the occasion and the time of the event. Check out the latest styles of kurta trending in kids' wear:
Shirt Kurta and Pajama are perfect for summer and day events. These are not typically traditional but are quite chic and stylish. With a shirt-like style, these kurtas are more apt for casual events. You can avoid going for dark colors because these kurtas look too sophisticated in light tones only. This style looks good on both young boys and girls.
Pathani Kurta has a shirt collar and is curved at the length. This is usually worn with salwar or dhoti-style pants. It is best to opt for plain-colored pathani kurtas, as they look stylish when carried elegantly. Make sure that the color of the bottoms and kurta match or at least blend with the hue of the kurta. You can go for colors like light yellow, orange, baby pink, or nude shade for your kids.
Sherwani Kurta is a coat-like kurta that is quite formal in appearance as compared to other kinds. Sherwani kurtas are meant for important occasions and are best worn with a churidar. Sherwanis have a golden touch with some embroidery. One can opt for a zardosi work sherwani for a wedding occasion.
Angrakha Kurtas are quite traditional in terms of style and patterns. This style is more apt for both young girls and boys. Angrakha kurtas overlap and are tied to the left or right side. These come in different colors and patterns; these kurtas are best for family occasions and festivals.
Conclusion –Shop for kids' kurta pajama combos at various sites like Kids Lane and make your child a trendsetter! No wonder which styles you carry select to it that your child is comfortable with the material and the style. It is essential to consider the climate too when selecting the Best Ethnic Wear in Jaipur.